Middle East
The Jeffrey Epstein scandal has found its way into Israel's elections
Your ads will be inserted here by
Easy Plugin for AdSense.
Please go to the plugin admin page to
Paste your ad code OR
Suppress this ad slot.
Six weeks into what has been an otherwise quiet election campaign, the Jewish-American multi-millionaire, who was charged in New York with sex trafficking of minors on Monday, is now the focus of a war of words between Prime Minister Benjamin Netanyahu and rival Ehud Barak.Netanyahu attacked the man who once served as his Defense Minister for his connections to Epstein — who has pleaded not guilty to the charges — while also accusing the media of burying the story.In a slickly produced video released on Netanyahu's Twitter account on Tuesday, a narrator says: "Meet Jeffrey Epstein. Suspected of pedophilia and a rich past in sexual offenses. Epstein was the head of the Wexner Foundation that gave Barak 2.3 million dollars for a research program that never was and never came to be. What else did the sexual offender give Ehud Barak? Is the media going to wake up?"The Wexner Foundation, which is headquartered in Ohio, works to develop Jewish professional and volunteer leaders across North America and public leaders in Israel. CNN has contacted the Wexner Foundation for comment. A spokesperson told Forbes that Leslie Wexner, a businessman who founded Victoria's Secret among other retail brands, cut ties with Epstein more than a decade ago. According to Forbes, Epstein served as trustee of the Foundation.On Israeli radio Tuesday, Barak said people paid him large amounts of money for research and consulting. Asked what kind of work he did for the 2.3 million dollars, Barak told the radio host to ask the Wexner Foundation. The research grant dates from 2004, when he was not a serving politician.Ehud Barak served as Israeli Prime Minister between 1999 and 2001, and later served as Defense Minister under Prime Minister Netanyahu. Recent years have seen him grow increasingly critical of the Prime Minister, and his attacks have only become more barbed since he announced he was stepping back into the political arena this summer. Responding to the Netanyahu tweet, Barak fired back with, "It hurts to hear that people I know were caught up in criminal actions. First Netanyahu, then Epstein," adding that in both cases he hopes the truth comes out.Netanyahu faces his own criminal investigations in a series of ongoing graft probes. Israel's Attorney General has announced he intends to indict Netanyahu on charges of bribery and breach of trust, pending an October hearing. Netanyahu has maintained his innocence.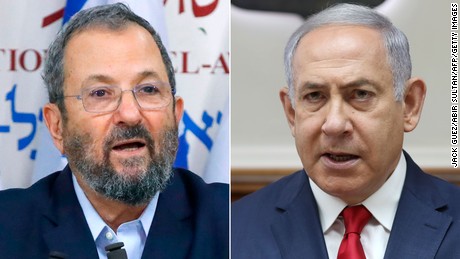 With approximately two months to go until Israel goes back to the ballot box following Netanyahu's failure to form a government in May, Netanyahu's Likud party is polling far ahead of Barak's newly formed Israel Democratic Party. But their back and forth is the biggest fight in an otherwise quiet campaign so far.Netanyahu's main rival, Benny Gantz, has flown under the radar in this election cycle, with some analysts wondering why his party has failed to make more noise. Israel's two ultra-Orthodox parties don't need to run splashy campaigns since they have loyal voter bases on which they rely. And the smaller right-wing and left-wing parties are trying to decide upon their party lists and strategies before the September 17 election.Read More – Source