Asia
How viral moment redefined the Brownlee brothers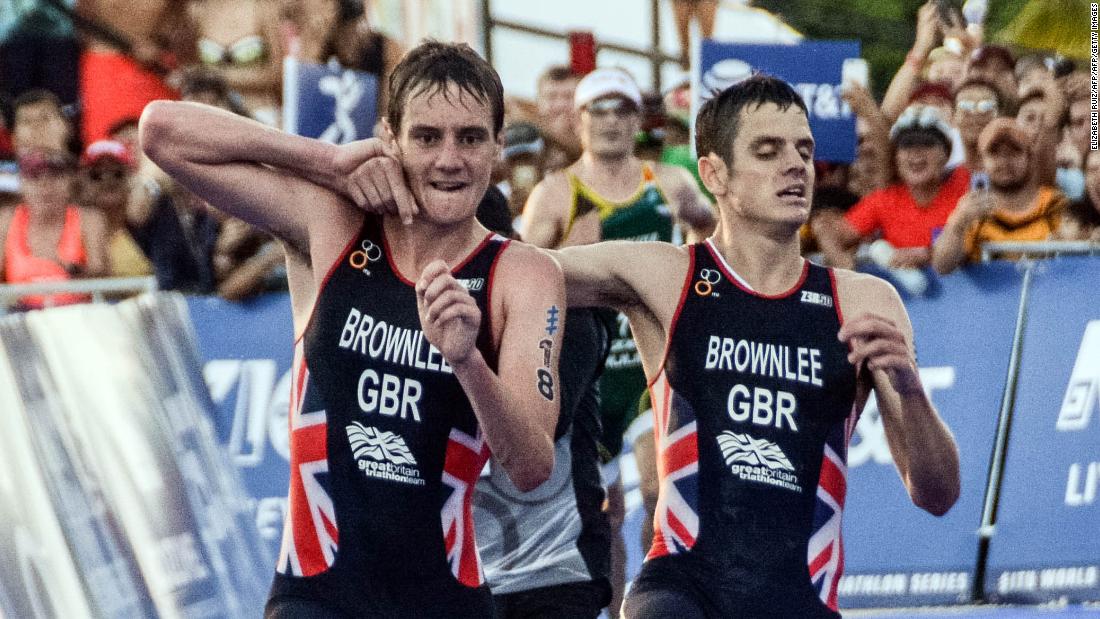 Despite boasting 23 global senior medals at Olympic, World and European level with older brother Alistair, the Brownlee siblings, who are triathlon specialists, admit their world renown is as much for the one that dramatically got away.Follow @cnnsportLeading the World Trialthon Series finale in Mexico, Jonny was 700 meters away from the win that would have given him global glory only for his body to dramatically start shutting down.Battling for second with South African Henri Schoeman, Alistair scooped up his brother, carrying him to the finish, thrusting him over the line in front of him, a noble gesture even if it proved insufficient for that World Series title."Occasionally, people shout to ask if I need help crossing the road," Jonny tells CNN from a pre-Christmas training camp in Spain as he recalls the moment in September 2016 when the image of brothers in arms went viral. His response, he says, is to smile and move on.Even in a local supermarket in Alicante where he is currently spending 10 days on a training camp, Jonny is now being recognized more readily than he has been at anytime in his career."People stop and say how nice he [Alistair] was," he says. "It's actually all people ever say."
No day off on Christmas Day
To their credit, the siblings have embraced the incident, one that has brought the once bickering brothers closer together.Growing up, even playing a game of Monopoly could spark an argument between the brothers. There is also a third Brownlee brother, Edward, who is younger than Alistair and Jonny.Spending this Christmas at their parents' Yorkshire home in northern England, the two triathletes will happily join in the board games but with a surprising lack of desire to win."I think we used up all our competitiveness for stuff like that as children, and we get enough competition from the day job," says Alistair. "There will be other people being competitive in the family."While they will allow their svelte frames the luxury of gorging on the festive offerings, Christmas Day won't pass without a training session."It's never a case that I'm worrying about what my rivals are doing on Christmas Day, it's more a case that I'm used to exercising," adds Alistair.READ: The best Christmas destinationsSo the triathlete brothers will hit the roads for an hour-long run, their minds on the collective first goal of next season — Commonwealth Games gold on Australia's Gold Coast in April. The brothers will represent England at the Games.To date, Alistair has predominantly taken the bragging rights, winning the last two Olympic titles as Jonny finished third and second in 2012 and 2016 respectively.For Jonny, the result in 2012 was easy to bear, less so last summer in Brazil, where he admits the idea of damning his brother crossed his mind."I was in such good shape in Rio," he says. "I was training so well and running faster than him so that sort of irritation crossed my mind briefly but, if I hadn't won, I wanted it to be him."So will 2018 be the year when youth finally gets the better of experience?"Well, I hope so but I thought the same thing in 2016 and look what happened then!" adds Jonny with a laugh.
The Kona dream
As Christmas approaches, the good news for Jonny is that he would appear to be in the ascendancy. Alistair is four-and-a-half months into his rehabilitation from hip surgery while Jonny, bar the odd niggle, has come through winter training relatively unscathed.Alistair is no stranger to injuries, which previously have curtailed his training only for him to peak at the right time."It's not ideal and I'd like to have done more before the Commonwealth Games but I've come back from injury before like this and having done something like that before makes it easier," says Alistair.But he is well aware of the threat his little brother presents: "I'm sure he'll beat me one day."As for Jonny, his aims are clear: "I want to be Commonwealth Games champion and then Olympic champion in 2020."Whether Alistair will still be racing at the same distance come the Tokyo Games is uncertain, though the lure of a third Olympic title plus the mixed team triathlon elay being added to the Games schedule mean he will most likely compete in Tokyo and put his Ironman ambitions temporarily on hold.The dream for both after the 2020 Olympics is to win Kona, the Ironman World Championships in Hawaii.READ: Blind triathlete's Kona dream"I grew up watching Kona, that really was the pure side of the sport," says Jonny. "It's not necessarily the pinnacle of the sport, being British that's probably the Olympics."Despite the brutal temperatures in Kona and the eight or nine hours swimming, cycling and running that's involved, Jonny simply wants to try it to see how he and his body fare under the torment."Kona is definitely something that's a big aim for me and it's hard to say if winning that would be bigger than Olympic gold as I've not done it," adds Alistair.For all that Alistair has won, he insists he has never lacked for motivation, his goals ever shifting, a change of equipment in terms of their bike suppliers for the season in Scott, giving him renewed impetus."Psychologically, getting something new like that is always a boost," says Alistair.
'Train with the best'
Whether on two wheels, on the water, or on two feet, as ever the goal is for a Brownlee one-two at the Commonwealth Games in a few months' time.For Jonny, was there ever a sense he might split from his brother and try his own path in a different training group?"I think athletes as a whole tend to be quite scared of change," he says. "I've never really thought about it. It's always good to train with the best and Alistair's proved he's that."I've been afraid of change in the past but my training now differs to his in that I might go shorter or harder or easier on any given day. We'll see if that pays off."Medals aside, the one joint aim is for the race in Australia not to end with one helping the other across the line. As Alistair concludes, "I think we've done that one!"
Original Article
[contf] [contfnew]
[contfnewc] [contfnewc]