Middle East
Iran accuses US of 'grotesque' incitement through social media
Tehran accused US President Donald Trump and Vice President Mike Pence of inciting Iranians to protest against the government through a series of tweets and described US interference in Iranian issues as "grotesque."It also pointed to a US State Department official's Tuesday statement that the United States was communicating with anti-government protesters through its Facebook and Twitter pages in Farsi, and was encouraging them to demonstrate."The President and vice president of the United States, in their numerous absurd tweets, incited Iranians to engage in disruptive acts," the letter sent overnight reads. "The US Department of State went so far as admitting that the US government wants to encourage protesters in Iran to change their government, admitting that the US is engaged in interfering with the internal affairs of Iran through Facebook and Twitter." The United Nations Security Council will convene a meeting on the situation in Iran at 3 p.m. Friday. The meeting is being held at the request of the United States. It is expected the session will begin with a briefing by a UN political official, and Iran could speak at the meeting.
'You will not be forgotten'
The State Department is monitoring the protests, which it said are the product of Iranians' desire for dignified treatment, snuffing out corruption, more government transparency, better economic opportunities and an end to "military adventurism abroad," department spokeswoman Heather Nauert said in a statement. The US condemns the deaths of protesters and what the State Department said were more than 1,000 arrests, Nauert said. "The government continues to imprison and kill those who are brave enough to venture into the street. It is limiting the flow of information into Iran, restricting free speech, and attempting to prevent the outside world from observing its own repression," her statement said. "We support these legitimate aspirations of the Iranian people, and call on the government to allow the free exchange of ideas and information."The statement closed, vowing, "To the regime's victims, we say: You will not be forgotten."Nauert's statement came on the same day the State Department redesignated Iran and nine other nations as "countries of particular concern" for alleged violations of religious freedom. "We recognize that several designated countries are working to improve their respect for religious freedom; we welcome these initiatives and look forward to continued dialogue," the State Department said of the redesignations.
State department: We 'encourage' protesters
State Department Under Secretary for Public Diplomacy and Public Affairs Steve Goldstein said on Tuesday that Iranians were using virtual private networks to access Facebook and Twitter pages where the department was communicating with protesters.The Iranian government restricted access to social media at the height of the protests over the weekend, but many Iranians also use VPNs so the government cannot track their online activity. "We want to encourage the protesters to continue to fight for what's right and to open up Iran," Goldstein said.He said social media apps were "legitimate avenues of communication." "And people in Iran and throughout should be able to access those sites."The anti-government protests, the most powerful challenge to the regime in years, appeared to have fizzled Thursday, after a claim by Revolutionary Guards commander Mohammad Ali Jafari that the unrest was officially over.No more than 42,000 people have taken part in the anti-government protests since December 28, Interior Minister Abdolreza Rahmani Fazli said, according to the semiofficial Iranian Student News Agency Forty-two thousand isn't a high number, Fazli said, adding that protests are "normal occurrences and happen in all countries." On Wednesday, the Islamic Revolutionary Guard Corps pinned the number at 15,000. CNN has not been able to verify either number. At least 21 people were killed and 450 were arrested in the protests, many in clashes with security forces trying to quell the rallies.
Tehran: US helped orchestrate protests
The protests began a week ago over Iran's stagnant economy and the rising cost of living, and developed into a broader outcry against the government. Now pro-government protests are taking their place, and on Thursday, regime supporters marched through parts of the country for a second day in a row. Iranian and US officials have traded barbs for the past week, and Tehran maintains that the United States and its allies orchestrated the unrest.There is no evidence that Washington had any direct role in orchestrating the anti-government protests, beyond the encouragement through social media and published remarks.Weeks ago, parts of the Iranian government's proposed 2018 budget were published online, revealing details of spending on conservative religious institutions, security and defense organs. The proposed defense budget has increased 40 percent over two years, as Iranian involvement in Syria, Iraq and Lebanon has escalated. The linkage was highlighted by protesters across the country shouting: "No Gaza, No Lebanon, my life only for Iran"- an apparent rejection of Iran's military and financial commitments in the near abroad- and how they undercut economic development at home.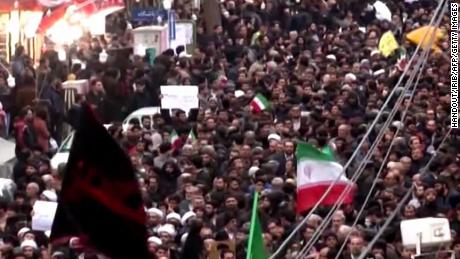 Pence doubled down on that stance overnight, blaming the Obama administration for failing to help Iran's "brave protesters" in mass protests in 2009. "This time, we will not be silent," he wrote in an opinion piece for the Washington Post."Today, the Iranian people are once again rising up to demand freedom and opportunity, and under President Trump, the United States is standing with them."He criticized European nations and the United Nations for failing to "forcefully speak out" on Iran. "The President and I call on leaders of freedom-loving nations across the world to condemn Iran's unelected dictators and defend the Iranian people's unalienable right to chart their own future and determine their own destiny."In a Thursday tweet, Iranian Foreign Minister Javad Zarif hit back at the White House for what he cast as duplicitous comments. Among them: labeling Iran a "terrorist nation," denying its citizens entry into the United States and Trump saying he respected Iranians while denying them the benefits of the Joint Comprehensive Plan of Action, which is aimed at ensuring Iran's nuclear program is pursued for only peaceful ends. Russia's Deputy Foreign Minister Sergey Ryabkov went so far as to say the United States was leveraging the protests to undermine the Joint Comprehensive Plan of Action. Neither the United States nor the United Nations, whose primary focus is international security, should involve themselves in the Iran situation, he said. "Despite many attempts to distort the essence of what is happening, I am sure that our neighbor, the state that is friendly to us, will be able to overcome the current difficulties and come out of the current period as a stronger country and a partner that is reliable in solving various problems," including those related to the Joint Comprehensive Plan of Action, Ryabkov said, according to the state-run TASS news agency.
Iran calls on Telegram to block channels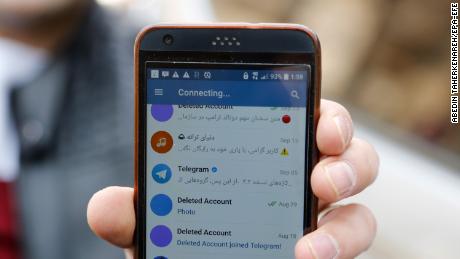 The Iranian government had restricted the use of social-media apps Telegram and Instagram to quell the unrest. It has said those restrictions will be lifted on Friday, and there were signs Thursday that it had begun easing some of them.But at the same time, Iran has called on Telegram to block "terrorist channels," according to state TV IRIB, in another apparent effort to prevent more protests. A temporary block on Telegram was first imposed on Sunday after anti-government protests. Telegram removed at least one opposition channel, citing calls for violence, but Telegram CEO Pavel Durov has refused to shut down other channels that he said were peaceful.State media is reporting a "heated" market for VPNs since the government began restricting the apps.
CNN's Eliott C. McLaughlin, Natalie Gallon, Kara Fox, Paul Murphy, Mary Ilyushina, Pamela Boykoff, Jennifer Hauser and Bijan Hosseini contributed to this report.
Original Article
[contf] [contfnew]
[contfnewc] [contfnewc]