Tech
License expired: The Ars Technica 2018 Deathwatch
Wow. That's 2017, though. Quite a year. Let's grab a Juicero and take a moment to reflect on the utter dumpster fires that we've witnessed over the past 12 months. No, we're not talking about the political scene, though that certainly factors in here somewhere. But even in times with a somewhat upward economic trajectory, there are those in the tech industry that seemed to have existed solely to be a cautionary tale to others.
Some of the companies previously on our Deathwatch radar didn't survive long enough to even make our final 2018 list. Pour out one for Radio Shack, which died even faster the second time around after what looked like a brave reboot. Others have been circling the drain for some time and are by this time old friends of the 'Watch, comforting in their continual plummet despite all other forces of nature. And some… well, some just halted and caught fire this year in a way that promises to provide years of Schadenfreude to come.
Now, before we introduce our candidates, it's time for the patented Deathwatch disclaimer.
"Deathwatch" is not a prediction of actual corporate demise. Corporations, technologies, and the like rarely expire quickly or completely (take Radio Shack, for instance, which is getting yet another reboot). Most failing companies—and even many failed products—limp on in some way through acquisition, integration, inertia, or the eternal zombie life of bankruptcy protection.
Instead, Deathwatch is a way of recognizing those entities in a different sort of mortal peril: technical, economic, and/or cultural irrelevance. To be a candidate for the Deathwatch, a company or product division of a company should have experienced at least one of the following:
An extended period of lost market share in their particular category
An extended period of financial losses or a pattern of annual losses
Serious management problems that raise questions about the business model or long-term strategy of the company or product line
We even have a special category for other sorts of things that we believe should be consigned to /dev/null in the following year that may not fit any of these above requirements. Call them "dishonorable mentions."
Last year's smoking dumpsters
To quickly catch up with the companies that we picked as least likely to succeed in 2017:
Yahoo has now been officially digested by Oath, a Verizon Company, its bits commingling with AOL's in a new, bizarrely named beast that for now bears the same logos. We've lovingly put the Yahoo Deathwatch tracker into a small box with some tissue paper and buried it with our children's deceased goldfish in the garden.
Theranos is busy sending out thousands of refunds to Arizona residents, and the company has rented out its Palo Alto headquarters in an attempt to stay solvent until it can legally test blood again. Who would possibly trust Theranos to do anything with their blood any time in the future? We don't know. But for now, we leave Theranos in the ICU on life support.
Gearbox Software has been very, very quiet in 2017. The company is still hiring, but just how well it is doing is difficult to tell since Gearbox is privately held and angel investor funded. But if it's counting on Desert Bus VR to pull the company out of a nosedive, we're not feeling it. For now, we're setting the Gearbox aside until there's something else to wrench apart.
BlackBerry doesn't make phones any more, having licensed its trademark and some of its tech to TCL. It is now a "cybersecurity software and services company dedicated to securing the Enterprise of Things." The bleeding appears to be mostly over, so we're upgrading BlackBerry from "deathwatch" to "eye with caution."
HTC and Twitter…well, they're not dead yet. And they're returning to this year's list for another season of pain, reasons for which we'll get into shortly.
Of course, we're also adding a couple of big new names to the list this year. Many people suggested we put "the Internet" on the list because of the FCC's net neutrality rule reversal, but we're not ready to go down that road yet. Besides, there are so many other burning wrecks at every turn.
So, without further adieu…here is your 2018 Deathwatch parade of shame.
Uber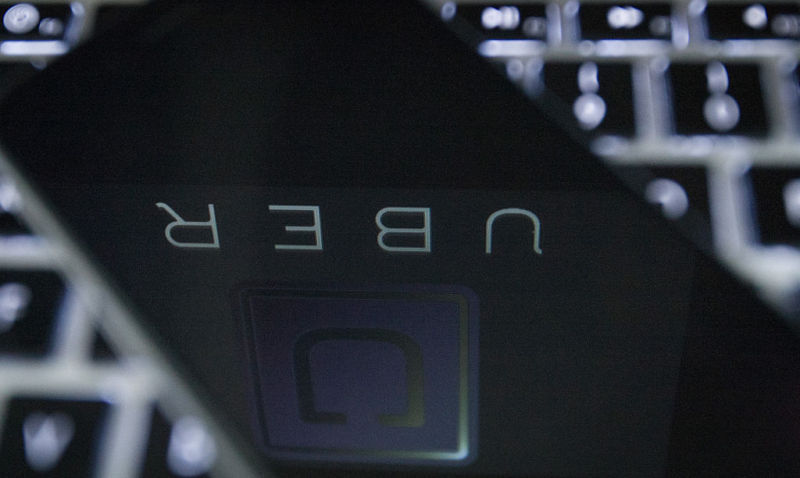 2017 has been absolutely brutal for Uber. A year ago, the company's prospects looked good. It dominated ride-sharing in the United States and had strong positions around the world. It had recently acquired hot ride-sharing startup Otto and was even working on flying cars.
But over the last year, Uber has faced a string of embarrassing scandals and setbacks. Waymo sued Uber, arguing that Otto co-founder Anthony Levandowski had stolen secrets from Waymo—where he previously worked—and shared them with Uber engineers. The New York Times reported that the Uber app had a secret function called "Greyball" designed to mislead municipal officials and evade regulation. That triggered a federal criminal investigation—one of three Uber has faced in 2017. And a former Uber engineer named Susan Fowler wrote a bombshell Medium post depicting Uber as a company with rampant sexual harassment problems (a depiction that would be confirmed in an independent investigation by former Attorney General Eric Holder).
All of this was too much for Uber's board, which successfully pressured founder, CEO, and alleged world-class Wii Sports tennis player Travis Kalanick to resign in June. Kalanick was replaced by former Expedia CEO Dara Khosrowshahi, but months of turmoil have left Uber with a depleted corporate suite and a demoralized workforce.
None of the above is even Uber's biggest problem: the company is losing billions of dollars a year, with no clear strategy for getting to profitability. Uber lost $2.8 billion in 2016 and will lose even more than that in 2017. Uber had $6.6 billion cash on hand in mid-2017—money that might not last much beyond the end of 2018.
Uber faces two big challenges in 2018. The company needs to find a way to stem its losses and get on the path to profitability before investors get frustrated and close their checkbooks. At the same time, it needs to deal with the looming threat from driverless taxi services. Waymo has said the company plans to launch such a service in the Phoenix area within months. GM's Cruise has said it is "quarters, not years" away from reaching full autonomy.
With no drivers, a fully autonomous taxi service could be dramatically cheaper than human-driven rides. So Uber needs to get its own driverless car technology ready as quickly as possible. With a distracted executive team and the looming Waymo lawsuit, that won't be easy.
—Timothy B. Lee
[contf] [contfnew]
[contfnewc] [contfnewc]
The post License expired: The Ars Technica 2018 Deathwatch appeared first on News Wire Now.