Middle East
Markets have food, but children are starving to death
Looking at his tiny, fragile body you would never guess that Ahmed is five years old. There is little more to him than parched, papery skin stretched across brittle bones and giant eyes — brown and unblinking — gazing up blankly.Occasionally, Ahmed moves a hand, limply trying to swat at the flies that settle on his cracked lips. Soumaya explains that he only speaks when the pain overwhelms him."He tells me 'my tummy hurts, my head hurts.' He cries," she says.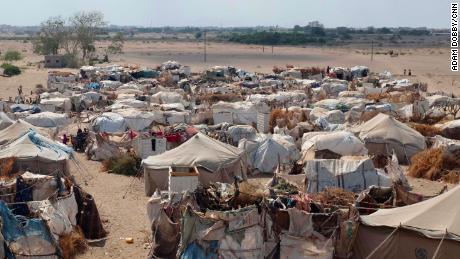 Ahmed is slowly starving to death. For four years he has been suffering from acute malnutrition, a vicious condition that took his brother's life just two months ago. Soumaya says that she has taken him to various clinics but that no one has been able to help."He had diarrhea and infections always. And then he had malnutrition. I've taken him everywhere for treatment and they would tell us there's nothing wrong with him. He's fine, he's normal … sometimes he would start getting better and then he would get diarrhea again and get sick again."
'Caused by man'
What does famine look like? It's a question one doesn't often ask because the answer seems obvious.Famine looks like dusty fields parched from drought, distended bellies and emaciated frames, a bad harvest with no crops. Famine looks like aid workers saving lives by handing out Plumpy'nut, packages of fortified nutritional paste. Famine looks like a page from the history books, the type of crisis that the world left behind in the 20th century.But in Yemen, famine isn't caused by a bad harvest or a drought — it's caused by man. In Yemen, aid workers are hunkered down in secure compounds in cities out of fear for their safety and boxes of Plumpy'nut rarely get to where they are most needed. In Yemen, children like Ahmed die because by the time they get treatment, the damage is irreversible.The United Nations estimates that 8.4 million people in Yemen are just "a step away" from famine and that it will be the worst the world has seen in many decades.Both sides are using food as a weapon of war, but the crisis is caused primarily by a brutal air, land and sea blockade imposed by a Saudi Arabia-led coalition.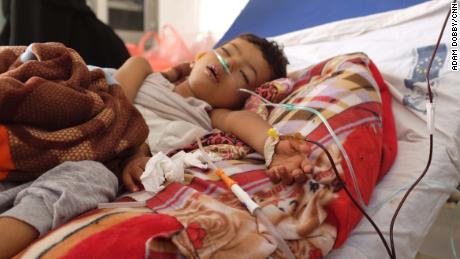 In principle, the coalition says the purpose of the blockade is to stop Iranian weapons from entering Yemen to supply the Houthi rebels who are in control of much of the north, including the capital Sanaa.But in practice, it has cut the amount of desperately needed food, medicine and fuel getting into the country by more than half, according to aid groups.What does come through is heavily taxed along the way, as it passes through territory controlled by different warring factions. Driving along, you pass markets flush with fresh fruit that no one can afford, while children starve a half mile down the road.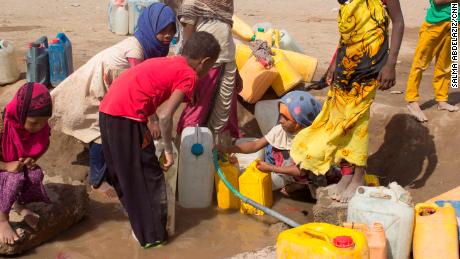 'Silent war'
It's a surreal and jarring image, one of many I carried home with me from Yemen. A doctor in the neo-natal ward of the main government hospital rinsing his hands with bottled water because there is no soap or working tap. A three-year-old boy with a lung infection struggling to breathe because there is no ventilator to help him. His mother, face down on his hospital bed, too exhausted to weep over her only child. The resigned look on the doctor's face when she tells me two days later that he didn't make it.There is little coverage of Yemen's complex and confounding conflict, in no small part because Western journalists have been largely blocked from entering the country.It is often called a silent war. But we found a country that is crying out for help as the world turns a deaf ear.
Original Article
[contf] [contfnew]
[contfnewc] [contfnewc]
The post Markets have food, but children are starving to death appeared first on News Wire Now.