Health
MP calls for ban on high-caffeine energy drinks
An MP has called for a ban on high-caffeine energy drinks for under-16s, following the suicide of a 25-year-old constituent.
Maria Caulfield raised the issue in Prime Minister's Questions.
She said Justin Bartholomew's family were "convinced" his intake of more than 15 cans a day had increased his anxiety and contributed to his death.
Theresa May said the government had taken action over high-sugar drinks and would continue to look at the evidence.
Supermarket chain Waitrose recently announced it was banning the sale of high-caffeine energy drinks to children aged under 16, following concerns over the impact of sugar and caffeine on children.
Ms Caulfield asked whether, given the actions of Waitrose and campaigners, including Jamie Oliver, the prime minister would consider a national ban.
Mrs May said the MP for Lewes had raised a "tragic case" and recognised energy drinks high in sugar could be damaging to young people's health.
She said the government had introduced the soft drinks industry levy – a tax on sugar-sweetened drinks, which takes effect in April 2018.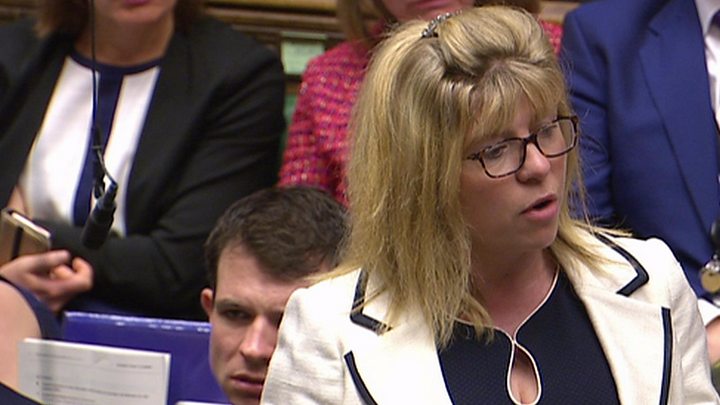 But the Department of Health and Social Care would continue to look at the issue and the scientific evidence, the prime minister said.
The British Soft Drinks Association has said energy drinks have been "deemed safe" by regulators but are not marketed or promoted to under-16s.
Existing industry labelling guidelines require any soft drink with more than 150mg of caffeine per litre to carry a high-caffeine content warning and state it is not recommended for children.
Last month, campaign group Action on Sugar found that typical serving sizes of energy drinks, at 500ml (nearly a pint), were larger than for other sugary drinks and were "completely inappropriate for children to consume".
[contf] [contfnew]
[contfnewc] [contfnewc]