Europe
Music stars cut ties with H&M over 'coolest monkey' hoodie
The most tone-deaf ads ever?
Two musicians have cut business ties with H&M after the fashion retailer used a young black model to promote a "coolest monkey in the jungle" hoodie.
The Swedish company was forced to apologize on Monday after its online ad sparked outrage and accusations of racism. Tops from the same line featuring other animals were modeled by white children.
H&M pulled the offending image, issued a second apology on Tuesday, and then stopped selling the hoodie. But at least two of its celebrity collaborators no longer want to be associated with the brand.
"After seeing the disturbing image yesterday, my excitement over our global campaign quickly evaporated, and I've decided at this time our partnership needs to end," musician and producer G-Eazy said in a statement.
G-Eazy, whose real name is Gerald Gillum, was working with H&M(HNNMY) on a collection of menswear that was scheduled to hit the stores on March 1.
H&M has been collaborating with celebrities and high-profile fashion designers for years. Each new collection tends to generate long lines of fans and extra interest in the retailer.
David Beckham, Madonna, Kylie Minogue, Stella McCartney, Vanessa Paradis and Karl Lagerfeld are among the stars that have signed up with H&M in the past.
"Whether an oblivious oversight or not, it's truly sad and disturbing that in 2018, something so racially and culturally insensitive could pass by the eyes of so many (stylist, photographer, creative and marketing teams) and be deemed acceptable," G-Eazy said.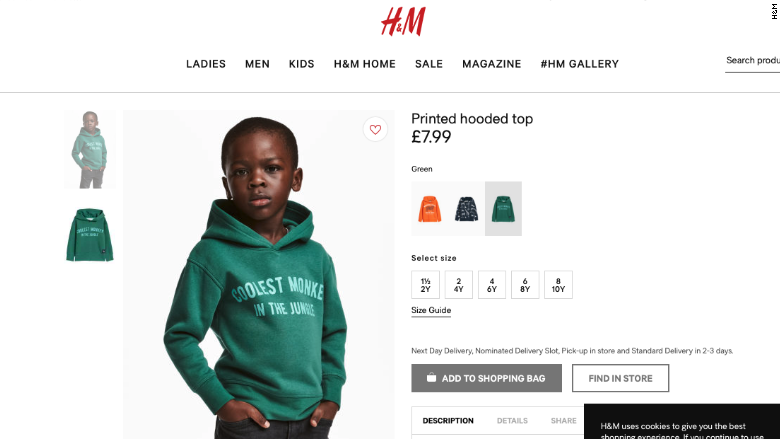 Related: H&M's profits down 20%
Canadian singer Abel Tesfaye, better known as The Weeknd, also ditched H&M in response to the issue.
"Woke up this morning shocked and embarrassed by this photo. I'm deeply offended and will not be working with H&M anymore…," he said on Twitter.
He was behind H&M's "Spring Icons Selected by The Weeknd" collection that went on sale last year and is still available online.
In a statement, H&M said it "completely understands and agrees with" the artists' reaction to the image.
"We are now investigating internally to avoid this happening again. We will continue the discussion with G-Eazy and the Weeknd separately," it added.
The controversy comes at a difficult time for H&M(HNNMY). Sales growth is slowing, and in September it reported a 20% drop in third quarter net profit. Its shares have fallen more than 50% from their peak in 2015.
Original Article
[contf] [contfnew]
[contfnewc] [contfnewc]