Middle East
Palestinian officials slam US President's threat to cut aid
Addressing Trump directly, PLO Secretary-General Saeb Erekat said to CNN, "So, Mr. Trump, your art of the deal. What's left to negotiate?" referring to Trump's 1987 book, "Trump: The Art of the Deal.""You are moving from negotiating to dictating and then you are threatening us if we don't accept your dictations — that you are going to cut aid."On Tuesday, Trump tweeted, "We pay the Palestinians HUNDRED OF MILLIONS OF DOLLARS a year and get no appreciation or respect. They don't even want to negotiate a long overdue peace treaty with Israel. We have taken Jerusalem, the toughest part of the negotiation, off the table, but Israel, for that, would have had to pay more. But with the Palestinians no longer willing to talk peace, why should we make any of these massive future payments to them?"Following Trump's recognition of Jerusalem as the capital of Israel in early December, Palestinian leaders froze contacts with the US administration and rejected the White House as an honest broker in negotiations. "The basic principle introduced in the first meeting [between Palestinian leaders and President Trump in May 2017], he said to us: 'We will not impose solutions. We will negotiate in good faith and we want to reach the ultimate deal,'" said Erakat. "Now, what did he do?"Reiterating Palestinian opposition to the latest US moves, a spokesman for Palestinian Authority President Mahmoud Abbas said Jerusalem is "not for sale."Trump's unilateral decision on Jerusalem was overwhelmingly rejected by the majority of the international community, even as it was hailed by Israelis as an historic decision.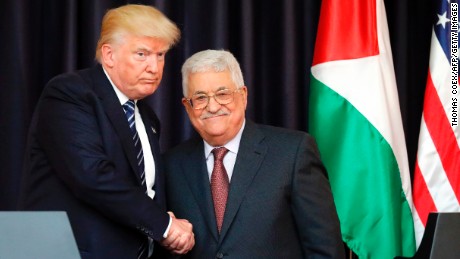 Israeli lawmakers welcome Trump's move
Buoyed by Trump's support in recent weeks, Israel enacted a law Tuesday tightening its grip on Jerusalem, arguably the most important issue in the Israeli-Palestinian conflict. Days earlier, a guiding body for Israel's governing party unanimously voted to apply Israeli law to West Bank settlements. The move, though non-binding, would be tantamount to annexation if carried out.Israeli leaders welcomed Trump's threat to cut aid to the Palestinians. Member of Knesset Michael Oren praised Trump's move, saying: "His statement puts the Palestinians on notice that from now on refusal to negotiate will incur a price."Speaking to CNN on Wednesday, Oren said: "President Trump, who comes from a business world in which those who refuse to negotiate pay a price, is applying that model to the peace process. Our hope is that this will spur the Palestinians to come back to the negotiating table."Israel's right-wing Education Minister Naftali Bennett said Trump's threat was one more step dismissing the "fantasy" of a Palestinian state. In a statement released Wednesday, Bennett said, "President Trump is not afraid to say the truth, even if it's not popular. The truth is Jerusalem has always been, and will always be, Israel's capital. By speaking truth, we can stop the fantasy of another Palestinian state in the heart of Israel." Bennett often refers to Gaza as a Palestinian state and is a staunch opponent of establishing a Palestinian state in the West Bank.Palestinians, backed by a virtual international consensus and United Nations resolutions, hold East Jerusalem as the capital of a Palestinian state.Israeli Prime Minister Benjamin Netanyahu did not comment on Trump's threat in a cabinet meeting.
Cuts could impact schools, hospitals
The US spent $616 million on aid to the Palestinian territories in 2016, according to the US Agency for International Development (USAID), which includes humanitarian assistance, private sector debt payments and infrastructure development assistance.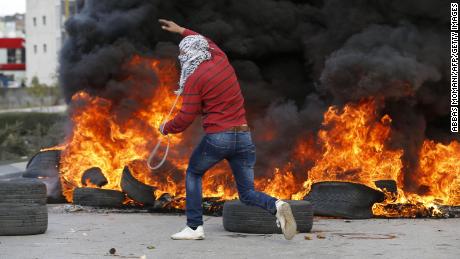 A portion of that money was allocated to the United Nations Relief and Works Agency, or UNRWA, an agency dedicated to supporting some 5 million Palestinian refugees. The funding touches nearly every aspect of Palestinian society, from education to healthcare and infrastructure projects.The removal of those US funds could have a devastating impact throughout Palestinian society, both within the Palestinian territories and in the wider region, where many Palestinians have lived for decades in refugee camps in Jordan, Syria and Lebanon.Warning of the practical effect of cutting aid, Erekat said that Trump's threat "means that he wants hundreds of thousands of children in the refugee camps, in Jordan, Syria, Lebanon, Gaza and the West Bank, without schools, sick people without hospitals, without roads and so on."Trump previously said that the US recognizing Jerusalem as Israel's capital would not impact the final status of Jerusalem in peace negotiations. In other words, Trump said that Jerusalem was still negotiable in a peace process when he stated that "we are not taking a position on any of the final status issues including the final boundaries of the Israeli sovereignty in Jerusalem."But Tuesday's tweet seemed to contradict that — claiming instead that "we have taken Jerusalem, the toughest part of the negotiation, off the table" — and may undermine his administration's efforts to hammer home last month's message in the Middle East.A White House spokesman declined to comment about the apparent contradiction.In response to Trump's recognition of Jerusalem as the Israeli capital, demonstrations against Israel and the United States have repeatedly broken out throughout the Middle East, rebutting the White House's belief that it would simply take time until Middle East countries accepted the US decision.
'Let him take it away'
Erakat restated Palestinian support for a negotiated two-state solution. He claimed it was Netanyahu, not the Palestinians, who had halted past peace negotiations — an accusation the sides have long used against each other.He also pointed out that every member of the UN Security Council besides the United States had voted in favor of a proposal affirming international opposition to recognizing Jerusalem as Israel's capital, days after Trump did so."What President Trump and what Mr Netanyahu are doing (is) torpedoing and destroying the two-state solution and moving towards imposing and dictating a solution which will not fly, it will not fly," said Erakat. "It will just add fuel to the fire, it will strengthen extremism in the region and destroy moderates."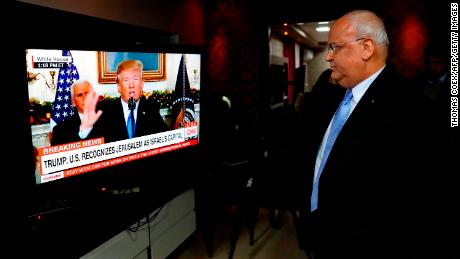 Mustafa Barghouti, founder of the Palestinian National Initiative political party, told CNN that as far as he was concerned, Trump could cut US aid and it would not be greatly missed."Most of the American aid to Palestinians is benefiting the Israelis because it is mainly funding security coordination between the Palestinians and the Israelis. If he wants to take it away, let him take it away," he said."But one message he should understand. We, the Palestinians, will not sell our land, or Jerusalem, for a few hundreds of millions of dollars. We have struggled for more than 70 years to get our freedom and a few million dollars will not stop us."
CNN's Oren Leibermann reported from Jerusalem and Laura Smith-Spark wrote from London. CNN's Jeremy Diamond, Michael Schwartz, Tamara Qiblawi and Amanda Coakley contributed to this report.
Original Article
[contf] [contfnew]
[contfnewc] [contfnewc]