Russia
Putin may win presidential election in first round – poll
Current Russian President Vladimir Putin may win the upcoming presidential election in the first round, a survey by the Russian Public Opinion Research Center revealed, two months before the March 18 vote.
If the Russian presidential election were held next Sunday, the current president would receive 81.1% of the vote and win in the first round, with Communist Party candidate Pavel Grudinin receiving 7.6 percent ,and Liberal Democratic Party leader Vladimir Zhirinovsky receiving 4.2 percent. The ratings for socialite Ksenia Sobchak of the Civil Initiative Party, Yabloko's Grigory Yavlinsky, and Party of Growth leader Boris Titov currently have less than 1 percent, the Russian Public Opinion Research Center (VTsIOM) said. The election will enter a second round if none of the candidates is able to get more than one half of the vote.
Read more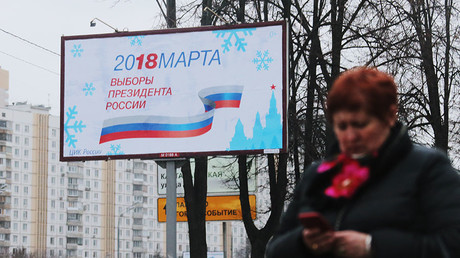 The majority of Russians "will come to the polls," according to the research conducted one week ago. Sixty-seven percent of the respondents intend to vote, and the attitude of this group is "usually close to the actual turnout," Valery Fedorov, who heads VTsIOM, told Kommersant. Fifteen percent of those surveyed have not decided whether or not they will vote, with 3 percent saying they will "definitely" skip this election.
The Communists (KPRF) and Lib Dems (LDPR) dispute VTsIOM's results, saying that they have more trust in their own polls. A telephone survey by the Communist Party showed that 10 percent of those who are definitely going to vote will do so for Grudinin, who is running for president for the first time and is not even a KPRF member.
The Liberal Democrats have even more trust in Zhirinovsky, who has taken part in a record five presidential elections, but has never received more than 10 percent of the vote. "We've conducted our own research and it shows that Vladimir Zhirinovsky has the opportunity not only to make it to the second round, but also achieve victory," Aleksey Didenko, the head of the LDPR election headquarters, told Kommersant.
Meanwhile, more than a million signatures have been collected in support of registering Vladimir Putin as a candidate in the March 18 presidential election, the campaign headquarters said. Despite needing only 300,000, Putin's team is planning to continue collecting signatures so that "everyone who wants to do so could express their support" for the candidate, Rossiyska Gazeta reported.
[contf] [contfnew]
[contfnewc] [contfnewc]