Middle East
Tens of thousands flee as Syrian regime makes Idlib push
The Syrian regime, led by President Bashar al-Assad, has resumed airstrikes on rebel-held areas, such as Idlib province, where medical organizations say several hospitals and medical facilities have been hit over the past two weeks.The officials said that around half of the civilian population of 2 million people in Idlib province had already been living in "extremely dire" circumstances before being forced to flee again in the winter cold. "They are particularly vulnerable as they were displaced before, and they are fleeing into areas that are extremely packed — full to capacity — and struggling to cope particularly now with the weather," one of the officials said.Idlib province, which borders Turkey, is the largest remaining rebel-held territory in Syria. The Syrian regime has retaken control of much of the country in the past year with the help of Russian forces and has launched an offensive to seize Idlib, the only province that came under full rebel control in the near-seven-year war. Idlib and other nearby rebel-held areas have been designated as "de-escalation zones" in a Russia-engineered agreement with Assad.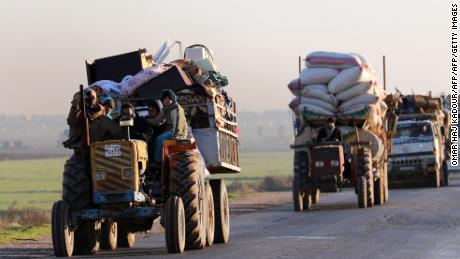 But violence has erupted in the province in recent weeks. Airstrikes by the regime and violence by rebels there are in violation of a truce put forward by Russia and agreed to by Assad.At least 23 people were killed and dozens others wounded in an explosion in Idlib on Sunday, according to Syrian activists and the UK-based Syrian Observatory for Human Rights. Most of those killed and wounded were fighters from al-Qawqaz, a small rebel group, according to the Observatory and the the Idlib Media Center, an anti-government activist group.The Observatory believes the explosion was caused by either a car bomb or a drone attack targeting the headquarters of a rebel group. Operations to recover bodies are still underway so the death toll could rise.
'There's no water, no food'
The Idlib Media Center activist group posted a video online of trucks carrying what appeared to be furniture and clothes that it said belong to Idlib's displaced people.Selim Tosun, from the IHH Humanitarian Relief Foundation, warned that if regime forces seized Idlib, there would be many people already displaced who would have nowhere to go. He said that an estimated 100,000 civilians had fled Hama Province, next to Idlib, and headed toward the Turkish border in the past week. "If the strikes on civilian centers continue, there is the possibility of an additional 400,000 civilians trying to make their way to the Turkish border. This area is already saturated with people and is currently housing roughly 1 million people. The area is not a suitable living area for this many people already and to have further influx will make the situation worse," he told CNN, speaking from the center of Idlib. Some people arriving at the border are setting up their own makeshift tents, he said.
CNN's Nick Paton Walsh and Sarah Sirgany contributed to this story.
Original Article
[contf] [contfnew]
[contfnewc] [contfnewc]