Tech
Tesla shares plummet but Musk dismisses losses
Tesla shares plummeted after CEO Elon Musk called an analyst a "boring bonehead" as he answered questions about a record net loss.
Shares fell 5% – about £1.8bn – in after-hours trading in the seconds after the electric car company chief dismissed Bernstein analyst Tony Sacconaghi's question about capital requirements.
Mr Musk, who is also CEO of private aerospace manufacturer SpaceX, said: "Excuse me, excuse me. Next, next. Boring bonehead questions are not cool. Next."
He was on a conference call responding to questions about Tesla's first quarter results which showed the company made a record $710m (£523m) net loss and tore through $745.4m (£549m) in cash in the first quarter of the year.
And when another analyst, Joseph Spak, of RBC, asked him about the next step for the new more reasonably priced Model 3 electric car, there was a 14 second pause.
The 46-year-old then said: "We're going to go to YouTube. Sorry, these questions are so dry. They're killing me."
The call then moved onto questions from retail investors on YouTube.
The eccentric South African-born entrepreneur has admitted to "sleeping at the factory" in an attempt to honour his promise to produce 5,000 Model 3s a week.
Currently only about 2,000 of the cars are being produced each week, with more than 500,000 people having made paid reservations for the affordable mass-market electric vehicle.
The Model 3 starts at $35,000 (£25,700) but with options can easily cost more than $50,000 (£36,800).
Mr Musk has also made the unusual admission that automation is overrated and more humans are needed to build the cars.
"We have temporarily dialled back automation and introduced certain semi-automated or manual processes while we work to eventually have full automation take back over," the company said.
During the latest conference call the Tesla chief also hit out at the media, calling journalists "irresponsible" for writing about the dangers of autonomous vehicles.
He claimed that "people might actually turn it off and then die" because of the stories following two fatal crashes of Teslas on autopilot this year.
Shareholders seemed to be displeased by Mr Musk's announcement that production of the more affordable Model Y SUV will not start next year, as previously reported, but in 2020.
He also said it would not be produced at Tesla's main factory in Fremont, California.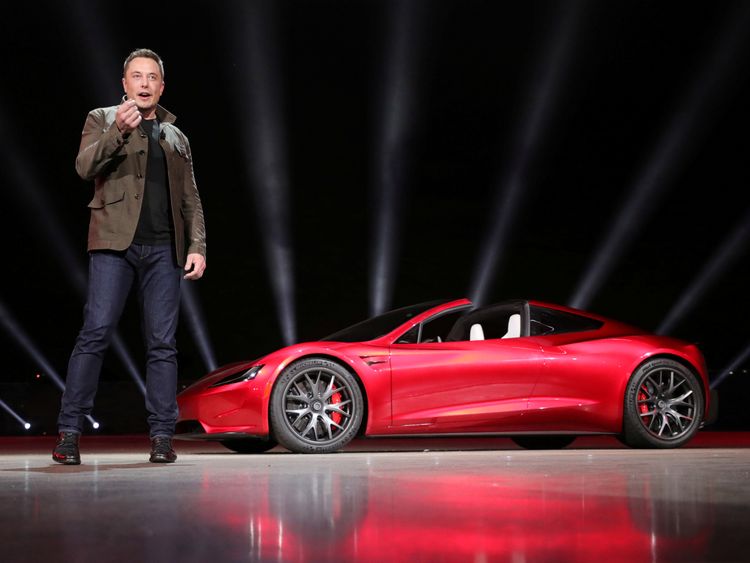 Speaking about Tesla's increasing cash flow problem, he said: "I'm feeling quite confident about hitting positive cash flow in Q3. This is not a certainty.
"It does appear quite likely in my view. We are going to conduct a reorganisation, restructuring of the company this month and make sure we are well set up to achieve that goal.
"In particular the number of third-party companies we're using has gotten out of control. We're going to scrub the barnacles on that front."
He added that it is "high time we became profitable".
More from Tesla
His advice for those concerned about Tesla's losses was blunt.
"If people are concerned about volatility, they should not buy our stock."
[contf] [contfnew]
[contfnewc] [contfnewc]