Movies
Tom Hanks Would Skip a White House Screening of 'The Post' in Protest of Trump
byJerome Hudson20 Dec 20170
Veteran actor Tom Hanks said there are similarities between President Donald Trump's treatment of the press and that of Richard Nixon and said he wouldn't attend a White House screening of his new freedom of the press drama The Post if invited.
Hanks stars as famed Washington Post editor Ben Bradlee in Steven Spielberg's upcoming film The Post, about the 1971 fight against the U.S. government to publish the infamous Pentagon Papers. Asked during an interview with the Hollywood Reporter what bothers him about how the press is treated today, Hanks hurled thinly veiled swipes at Trump.
"Facts are irrefutable. Well, it turns out people are saying: 'No, facts are not irrefutable. We can decide whatever facts that we want, that we would like,'" Hanks said. "Right now, without a doubt, there are people in power trying to — if not quash or stop the right to publication, [then at least] denigrate it to the point [where] they are saying there is no truth to it whatsoever. And there are stories out there that are the truth, [in] organs of the Fourth Estate like the New York Times and the Washington Post."
The two-time Oscar winner also said he wouldn't attend a White House showing of The Post.
"I don't think I would. Because I think that at some point — look, I didn't think things were going to be this way last November. I would not have been able to imagine that we would be living in a country where neo-Nazis are doing torchlight parades in Charlottesville [Va.] and jokes about Pocahontas are being made in front of the Navajo code talkers," Hanks said.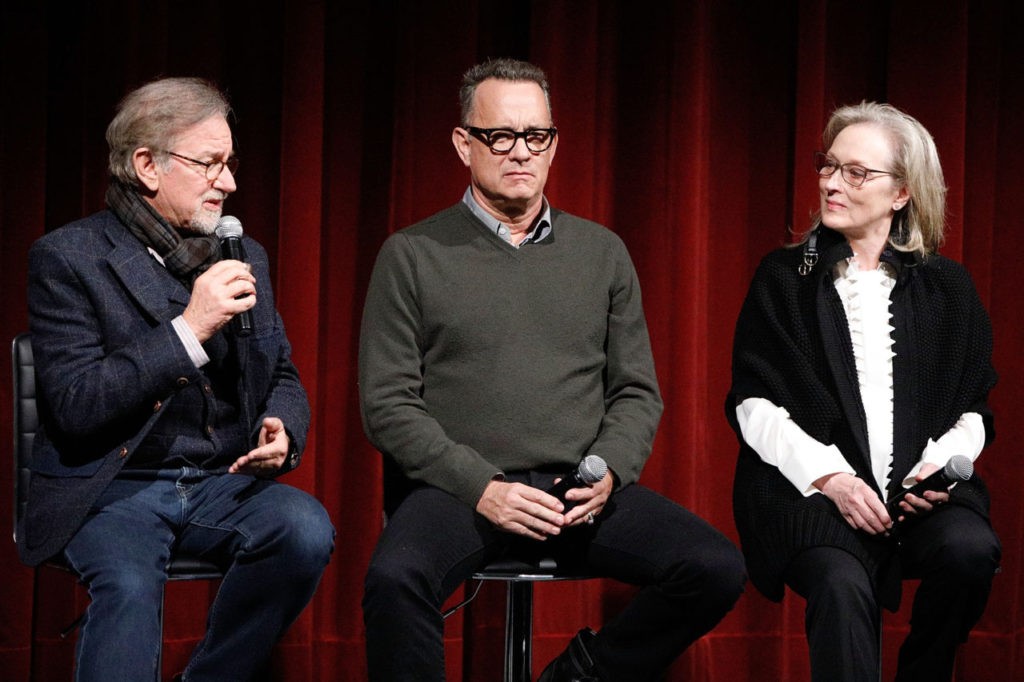 Director and producer Steven Spielberg and actors Tom Hanks and Meryl Streep on stage during The Academy of Motion Picture Arts & Sciences Official Academy Screening of The Post at the MOMA Celeste Bartos Theater on December 7, 2017 in New York City. (Lars Niki/Getty Images for The Academy of Motion Picture Arts & Sciences )
"And individually we have to decide when we take to the ramparts. You don't take to the ramparts necessarily right away, but you do have to start weighing things," Hanks continued. "You may think: 'You know what? I think now is the time.' This is the moment where, in some ways, our personal choices are going to have to reflect our opinions. We have to start voting, actually, before the election. So, I would probably vote not to go."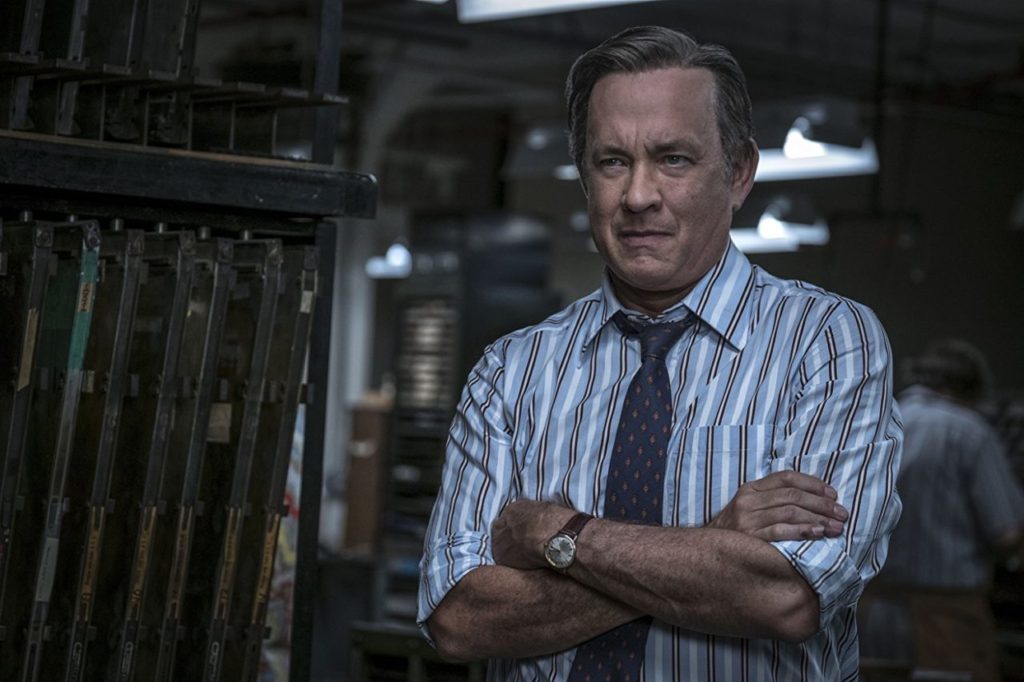 Tom Hanks in The Post (TWENTIETH CENTURY FOX FILM CORPORATION AND STORYTELLER DISTRIBUTION CO. LLC., 2017)
In an interview earlier this month with David Axelrod for CNN's The Axe Files, Hanks said it "concerns" him how much President Trump challenges the press.
Since 20th Century FOX released the first trailer for The Post last month, the film has been applauded and praised as a perfectly timed celebration of feminism and press freedom.
The drama about the publication of the Pentagon Papers is significant today, Hanks says, because "the Nixon administration tried to stop the story from being published. They took on the First Amendment by saying: 'You can't tell that story, and if you do, we're going to threaten you.' That is going on, of course, right now."
The Post hits theaters on December 22, 2017.
Follow Jerome Hudson on Twitter @jeromeehudson
[contf] [contfnew]
[contfnewc] [contfnewc]
The post Tom Hanks Would Skip a White House Screening of 'The Post' in Protest of Trump appeared first on News Wire Now.