Asia
Will Kim's favorite band attend the Games?
Now, North Korean leader Kim Jong Un may be sending his favorite band to South Korea. As talks continue between the two Koreas — following a sudden breakthrough earlier this month — an unlikely face popped up at the demilitarized zone as diplomats sat down together Monday: Hyon Song Wol, a member of Kim's personal girl band, Moranbong. Hyon's presence suggests Moranbong may be attending next month's Winter Olympics in Pyeongchang, South Korea.Pyongyang and Seoul are currently discussing whether to field a joint ice hockey team for the games, the first time the two Koreas will have competed under one flag.North Korea will send a high-level delegation comprising athletes, a cheering squad, an art troupe, a visitors' group, a taekwondo demonstration team and a press corps, negotiators said in a joint statement last week. In a statement Monday, negotiators said Pyongyang would also send the 140-member Samjiyeon Orchestra as part of its delegation. The release did not mention Moranbong.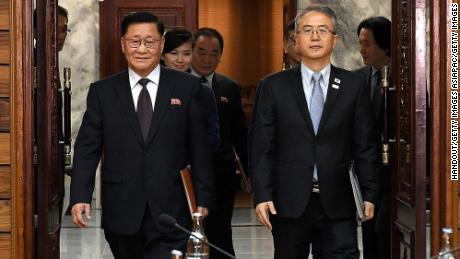 Paeans to Kim
Moranbong was formed in 2012 by Kim himself, and often performs in military uniforms, singing synthesizer-backed paeans about the authoritarian leader's "sweet smile.""How can he be so kind," goes one song. "I have no choice but to be taken by him and his warm heart."The band has been used for diplomacy in the past, a decision to send the band to Beijing in 2015 was seen by many as a sign that relations between China and North Korea were thawing after a rift in the wake of Kim's ascension and subsequent purging of several high-ranking officials with ties to Beijing. That concert was later canceled however.According to a report by the state-run Korean Central News Agency (KCNA) at the time of the band's forming, Kim "organized the Moranbong band as required by the new century, prompted by a grandiose plan to bring about a dramatic turn in the field of literature and arts this year in which a new century of Juche Korea begins." Juche is the governing ideology of North Korea, a philosophy of extreme self-reliance adopted after the Soviet Union could no longer support Pyongyang's nominally socialist government. "The (Moranbong) performers showed well the indomitable spirit and mental power of the servicepersons and people of the DPRK dashing ahead for the final victory in the drive to build a thriving nation under the guidance of Kim Jong Un," KCNA said in 2012 of its inaugural show. "At the end of the performance Kim Jong Un waved back to the enthusiastically cheering performers and audience."
Original Article
[contf] [contfnew]
[contfnewc] [contfnewc]